Customized Baby & Child Sleep Solutions 
Doctor Recommended, Top-Rated Pediatric Sleep Consultant Since 2016
Imagine a good night's sleep in about a week. Join hundreds of well-rested families who were once exhausted too. Success can be yours with individualized baby sleep training and unlimited support.
When your baby, toddler, or big kid struggles with sleep, everyone is exhausted. But it doesn't have to be so hard. You can have a sleep training plan that fits your child's temperament, your family situation, your parenting style, and more.
And it works! We're confident in our ability to guarantee your happiness. Or your money back.
Know that you're in good hands with an expert trained in infant mental health, maternal mental health, and all aspects of sleep science.
You can exhale now. Your child really can sleep. We promise. You have nothing to lose and a healthy, thriving life to gain.
Baby, Toddler, and Child Sleep Training Services for Exhausted Families Worldwide.
What Is Your Guarantee?
Happiness Guarantee
At Sleeping Well Consulting, we're so confident that we can create happier, well-rested families. If your child isn't sleeping better, we'll refund your entire purchase amount or keep working with you until you are happy, and your child is well-rested.
The relationship between you (our client) and us (your sleep consultant) is a partnership. Only through working together can the mutually beneficial goal (your results) be achieved.
After your support period has ended, if you can honestly say that your child isn't sleeping better than before, that you haven't met sleep goals, and you haven't been given the tools to maintain good sleep, we'll refund your entire investment amount.
To be eligible for the refund, you'll need to accomplish all 6 steps.
After 30 days, all purchases are completely non-refundable. Even if you never opened an email or lost all ability to text during that time.
All paid and add-on phone consultations are non-refundable.
Please note: We don't give refunds on digital downloads or lower-level sleep packages ($265/$275). This is to prevent refund abuse from serial refund-requesters and non-action takers.
In other words, work closely with us and trust the process. Trust your child! This works. We know we can help. That's why we stand behind our word or we don't get paid.
What If I Want to Cancel?
We have a 99% success rate, and this is due to our close working relationship with our families. You do have to make some changes and put in the work to have success.
Cancellation of Services: If you request to cancel services 24 hours before our mutually scheduled meeting to go over your sleep plan, you'll be refunded no more than $150. If you cancel services less than 24 hours before our meeting to go over your sleep plan, a refund is negotiable, but still not more than $150. If you cancel services after your meeting has taken place, no refund will be offered.
DISCLAIMER
My Services Are Not Medical Advice. The advice you receive from me is for informational purposes only and is intended for use with common early childhood sleep issues that are wholly unrelated to medical conditions. The early childhood sleep issues that I work with are related to behavioral conditions related to habits learned over time. My advice is NOT intended to be a substitute for medical advice or treatment. Always seek the advice of your doctor or other qualified health practitioner regarding any matters that may require medical attention or diagnosis, and before following the advice and using the techniques described in Sleeping Well Consulting's Programs.
EXCLUSION/LIMITATION OF LIABILITY
Sleeping Well Consulting, LLC. does not make any representations or warranties, express or implied, regarding consulting services provided. Sleeping Well Consulting's liability (if any) is limited to the consulting fee paid by you to Sleeping Well Consulting and in no event will Sleeping Well Consulting be liable to you for any other claim, losses or damages.
What About Payment Plans? HSA/FSA?
Do You Take HSA/FSA?
Yes, Sleeping Well Consulting takes HSA/FSA. You can pay using either of these at checkout, or we can send an invoice.
What are your payment plans?
You can pay in 3 or 4 interest-free payments. There's no effect on your credit score if you set up 3 or 4 interest-free payments. We use Klarna to facilitate interest-free payments. (Klarna does a soft-pull on your credit, not hard, so there's no effect if you set up interest-free payments). Select the Klarna button at checkout, and you'll be directed to the Klarna page where you can enter your information. Klarna does have an interest payment plan available too, and this one does a hard-pull. If you choose this type, you can pay off your investment over a year or more.
Does This Work With...?
Does This Work with…?
Babies Who Are Breastfed? Yes! Breastfed babies can sleep well and eat well. Our process supports exclusively breastfed babies and breastfeeding on demand. Our process supports attachment parenting. We'll structure a plan that includes night feeds if that's what is best for your baby, and we'll help you with weaning or night-weaning if desired. Most of the time, babies drop night feeds on their own when they're no longer needed for nutrition.
Newborns? Yes, we work with newborns! And in fact, the earlier you start to build healthy sleep habits, the less crying you'll have at sleep time. We never ask you to leave your newborn alone. Our work with newborns involves timing of wake windows, full feedings, helping them get comfortable in their bodies, swaddling and transition swaddling, and lots of comfort – holding them plenty.
Older Children? We love working with toddlers, preschoolers, and school age children. Children's sleep is all about helping them feel secure in their rooms and beds. Often, children get stuck in a "loop," of asking for more things, stalling bedtime, or running out of the room to seek attention or express feelings and anxiety. Children can learn to fall asleep fast at bedtime and stay asleep all night, because they can feel secure and comfortable there. At Sleeping Well Consulting, we'll guide you every step of the way towards facilitating this feeling of security for them. Your child really can sleep. We promise.
Children with Autism, ADHD, Special Needs, or Sensory Processing Issues? Yes! We believe that children are more than their labels. They are all unique individuals. While some children's brains process the world differently than others, they can still sleep. And for children with unique needs, sleep is even more crucial.
Children who are teething, sick, or in regression? Yes, your child can still sleep even if they've been teething or in a sleep regression. We'll make any necessary adjustments to your sleep plan as needed, and troubleshoot any issues as needed as we go along. If your child becomes ill with a fever or more serious illness while we're working together, we'll pause the plan and re-start when your child is well. We'll talk about how to handle illnesses so that they don't disrupt your child's sleep, and discuss whether a more common illness or allergen, like the cold virus, would be reason for pausing or continuing.
Twins, Multiples or Siblings Who Need Sleep Help?
Yes. We can work with twins in the same room or in different rooms. It all depends on your family situation and level of support at home. You can work with siblings at the same time or separately. If siblings are near the same age, you can pay one package price.
Co-Sleeping Families?
If you're room-sharing, yes, we can design a plan that helps your child sleep better.
If you're bed-sharing, we can help you transition your child to their own bed within your room or to their own bed in their own room. And don't worry! Most of the children we work with have been bed-sharing. Many parents are afraid their child will never be able to transition to their own bed. They fear their child won't feel safe there or their child will hate their bed. But this isn't so. Children can and do transition more easily than we think. We can facilitate this for you and guide you every step of the way.
What Is Your Method Like? Is This CIO?
Is This Cry-It-Out? What is your process like?
No, CIO and Ferber Methods are not effective. They are especially not effective over time. This is because CIO and Ferber Methods address only one aspect of child sleep – changing the way they fall asleep. These methods can create even more stress and crying, and in turn, cause families to abandon their efforts at creating healthy sleep habits.
Instead, Sleeping Well Consulting looks at normal childhood developmental needs. We meet your child where they're at developmentally, whether they are learning to roll, crawl, walk, talk, or run out of the room at bedtime. We consider all the underlying factors that are interfering with your child's sleep, from separation anxiety to feeding-to-sleep. From a sleep science perspective, we consider wake windows and sleep pressure. We'll help you build natural sleep readiness without sabotaging sleep pressure. In some cases, we'll be removing parent-led sleep associations. And we'll help give your child positive sleep associations that they can use to feel secure and master their own sleep.
Most of all, we have a responsive sleep training process. You'll be responding to your child while they are learning. It's like an IF/THEN process. If your child is more upset, you'll know how to respond in a way that helps. You'll know how to read the signs and cues that your child is working on actively going to sleep. If your child is working on going to sleep, you'll know how to respond in a way that continues to bring comfort without stimulating them further awake.
It won't take long. Most children are falling asleep fast and sleeping through the night within a week or less. Your child will learn to fall asleep in the fastest amount of time with the least amount of crying. It really can happen. Your child really can sleep. We know we can get you there. You have nothing to lose and a happier, healthier life to gain. It's up to you.
Hi! I'm Kim Rogers, and I've been helping babies and children sleep since 2016.
My methods help your child go to sleep in the fastest amount of time with the least amount of stress.
I believe that Sleep Training is a misnomer. You won't be training your child to do something that doesn't come naturally.
Instead of training your child to do something they resist, you'll be allowing your child natural sleep. I'll show you the signs of success as your child moves around, gets comfortable and goes to sleep.
In some cases, you'll be removing old habits that don't "work" for your child anymore. 
You'll know when to comfort, touch, and when to allow your child freedom of movement. You'll know how to nudge your child in the direction of sleep.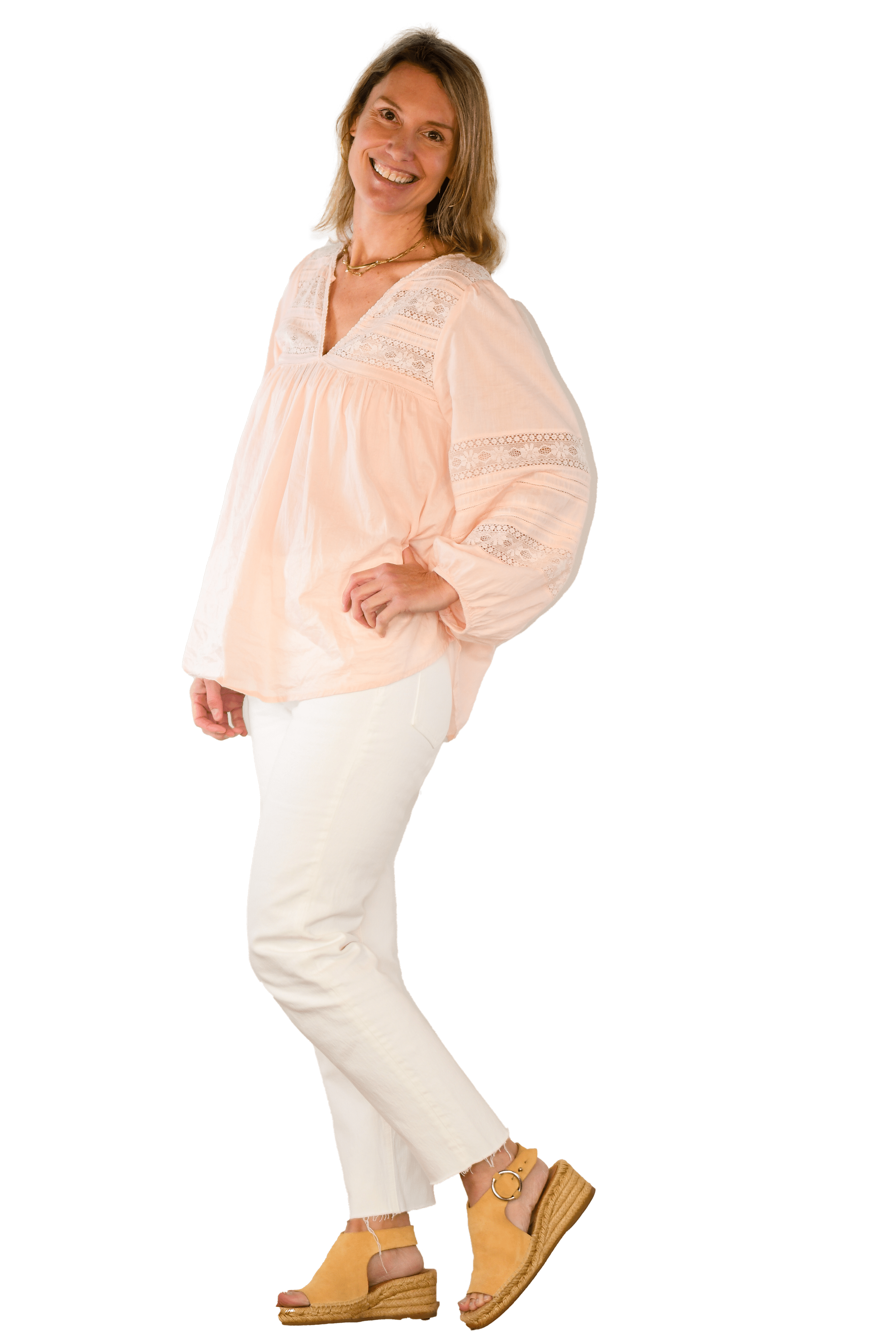 When I see my wide-eyed, alert, and happy baby I am so thankful to Kim for helping us get to this place.
We are still going strong with our sleep routines. Our baby takes about 90 seconds to fall asleep. I'm still amazed. So grateful for Kim!
As your Pediatric Sleep Consultant with a lifelong passion for good sleep, I would like to revolutionize how we all talk about sleep. Infant and child sleep can be a polarizing topic, focused on "cry-it-out" sleep training. But it doesn't have to be that way. I believe that the idea of forcing children into something that doesn't come naturally is unnatural and unnecessary.
When we clear up basic misunderstandings about how children's brains work and how sleep works for babies and children, the process of "getting good sleep" is so much easier. We can talk about sleep as the beautiful, natural aspect of life that it is. And, in that sense, there is no "training" babies. There's only sleeping.