Sleep Makes Everything Better
How Good Can It Be?
Customized Baby & Child Sleep Solutions 
Doctor Recommended, Top-Rated Pediatric Sleep Consultant  
Imagine a good night's sleep in about a week. Join hundreds of well-rested families who were once exhausted too. Success can be yours with individualized baby sleep training and unlimited support.
When your baby or toddler struggles with sleep, everyone is exhausted. But it doesn't have to be so hard. You can have a sleep training plan that works. It's so effective because it's written with your baby or child's individual needs in mind. It fits your child's temperament, your family situation, your parenting style and more. And your pediatric sleep specialist works one-on-one with you, guiding you every step of the way.
Your baby can learn to sleep through the night without being alone to cry-it-out. Your family can get the sleep it needs, in a matter of days. And you can rest, knowing that you're in good hands with an expert trained in infant mental health, maternal mental health and all aspects of sleep science.
Baby, Toddler and Preschooler Sleep Training Services for Exhausted Families Worldwide.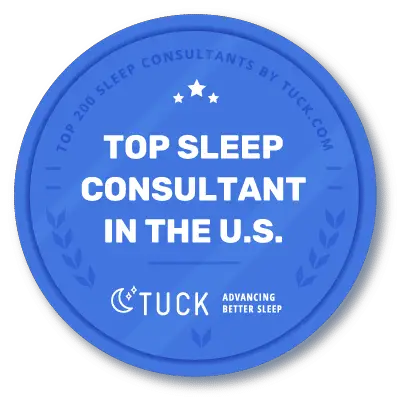 When I see my wide-eyed, alert, and happy baby I am so thankful to Kim for helping us get to this place.
We are still going strong with our sleep routines, and our (now exponentially happier) baby takes about 90 seconds to fall asleep once his head is on the mattress. I'm still amazed. And so grateful for Kim!"
Why is baby sleep so confusing?
Every baby is different, and there's no one-size sleep training method or plan that works each time.
Your Baby & Child Sleep Specialist helps children sleep without long-term stress and crying.

Sleep through the night faster and gentler. Stay consistent with unlimited support from your pediatric sleep consultant.

Immediate response bedtime and nighttime support to ease stress and ensure your success.

Wherever in the world you are, we can work together. Consultations and nursery evaluations by phone or video chat.

Stay successful for the long haul with the

continued support

of your Baby & Child Sleep Coach.
Ready to take the first step?
Get Customized Sleep Help Today.
Within two nights I was able to put him down awake and he would proceed to put himself to sleep and then sleep soundly for 10 hours straight. The happy look on his face after a good night's rest was priceless. Another strength of this individualized approach is that it is tailored to the age of your child.
I was waking up every 90-minutes all night long to nurse our precious 5-month-old son. He was also only taking 30-minute naps. Through Kim's support, love, and sleep-strategies, our baby is now sleeping through the night. He also now takes 90-minute naps. I can't say enough about Kim and Sleeping Well Consulting. Much love. Take the leap, it's worth it!
As Your Baby & Toddler Sleep Consultant, I help with:
Frequent night wakings.

Difficulty falling asleep.

The need to fall asleep by rocking, nursing, pacifier, bottle or any other "prop."

Waking too early in the morning.
Difficulty napping, short naps, no naps.

Transition from co-sleeping to crib, crib to bed, and from parent's room to child's own room.

Difficulty keeping your little one in bed all night.

Sleep issues during traveling and times of illness.
Even as your Baby and Toddler Sleep Trainer, I often say that Baby Sleep Training is a misnomer. You won't be training your child to do something. In some cases, you'll be removing old habits that that don't "work" for your child anymore.
Instead of training your child to sleep, you'll be allowing your child natural sleep. I'll help you guide your child to move around and get comfortable in his or her body and bed to go to sleep. I'll show you your child's signs and movements as he or she is putting himself to sleep.
You'll know when to comfort your child and when to allow your child to move around. And you can know when to gently nudge your child in the direction of sleep. And you'll be able to offer your comforting touch so that your child will know you are there.
My methods
help your child go to sleep in the fastest amount of time with the least amount of stress.
Some call it compassionate sleep training or sleep teaching, or gentle sleep training.
I write each plan for each individual family, to ensure success. I take the time to learn how to help your child fall asleep
easily
and stay asleep throughout the night.
Contact me today to learn how we can work together or if you have any questions!