Children who don't sleep well have lower IQs than children who do. (Sleep Medicine. 2010 March 11)

Children who get less than 10.5 hours of sleep per night are significantly more likely to be obese.




(Pediatrics. 2010 February 8)

Boys who don't sleep well are at a significantly higher risk for hyperactivity.




(Pediatrics. 2009 November 1)

Children who sleep less than 11 hours per night score lower on all kinds of school tests, including math and literacy.




(SLEEP Abstract #0040 San Antonio, 2010.)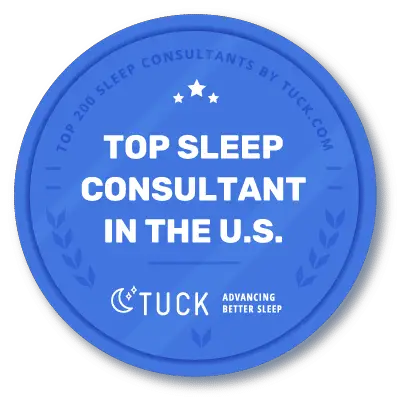 Sleep Problems I Help Solve
Difficulty falling asleep.
The need to fall asleep by rocking, nursing, pacifier, bottle or any other "prop."

Waking too early in the morning.
Difficulty napping, short naps, no naps.

Transition from co-sleeping to crib, crib to bed, and from parent's room to child's own room.

Difficulty keeping your little one in bed all night.

Sleep issues during traveling and times of illness.
I often say that sleep training is a misnomer. You won't be training your child to do something, but rather, you'll be allowing your child natural sleep and allowing your child to follow his or her instincts to do what comes naturally. I'll show you the signs to watch for as your child is putting himself or herself to sleep, and how to nudge your little one in that direction if they are frustrated, all while offering your comforting support and presence.
Some call it compassionate sleep training or sleep teaching, or gentle sleep training. My methods are personalized for your child and family situation, to ensure the least amount of stress and crying so that your child can go to sleep easily and peacefully night after night in the fastest amount of time.
I will take the time to evaluate your child's needs and learn how to help him or her fall asleep more easily and stay asleep during the night.
Contact me today to learn how we can work together or if you have any questions!
Want some quick tips? Get my free download, "Five Steps to Getting Your Baby to Sleep Through the Night," by signing up for my newsletter below.
And How to Spring Forward to Help Your Early Riser Sleep Later It's that time of year again – time to spring your clocks forward one hour. While most everyone dreads losing an hour of sleep, many of you are worried about how the time change will affect your child's sleep schedule. Here are some…
Read More
Kim Rogers serves parents of sleepless children in Asheville, NC; Lexington, SC; Columbia, SC; Charleston, SC; Greensboro, NC and around the world.